My photo editing business costs $81 to run each month. That's IT!
I know, it seems like nothing is truly low-cost right? Just like other skilled service based businesses, of course there will be some upfront investments needed to be made before you can provide an in-demand, professional skill.
Let's breakdown what those longterm investments and monthly costs would be…
This page contains affiliate links, and we may receive compensation if you click on a link.
1. Laptop or Desktop Computer
If you plan on using your computer for photo editing as a service, you could go with very minimal requirements when it comes to computer specifications!
To see if your computer is compatible click here to go to Adobe Lightroom's software requirements page.
According to Adobe Lightroom's software requirements, it's recommended you have at least 16B of RAM. If you are also doing video editing or a large amount of personal photo editing, 32GB of RAM would be reccomended.
I like to keep it simple and only invest what I need, nothing more. I currently edit on a 16-inch Macbook Pro with a retina screen and 16GB of RAM.
I choose to edit with an Apple computer because it is industry standard in the specific style of photography I choose to offer services for.
2. Adobe Lightroom Classic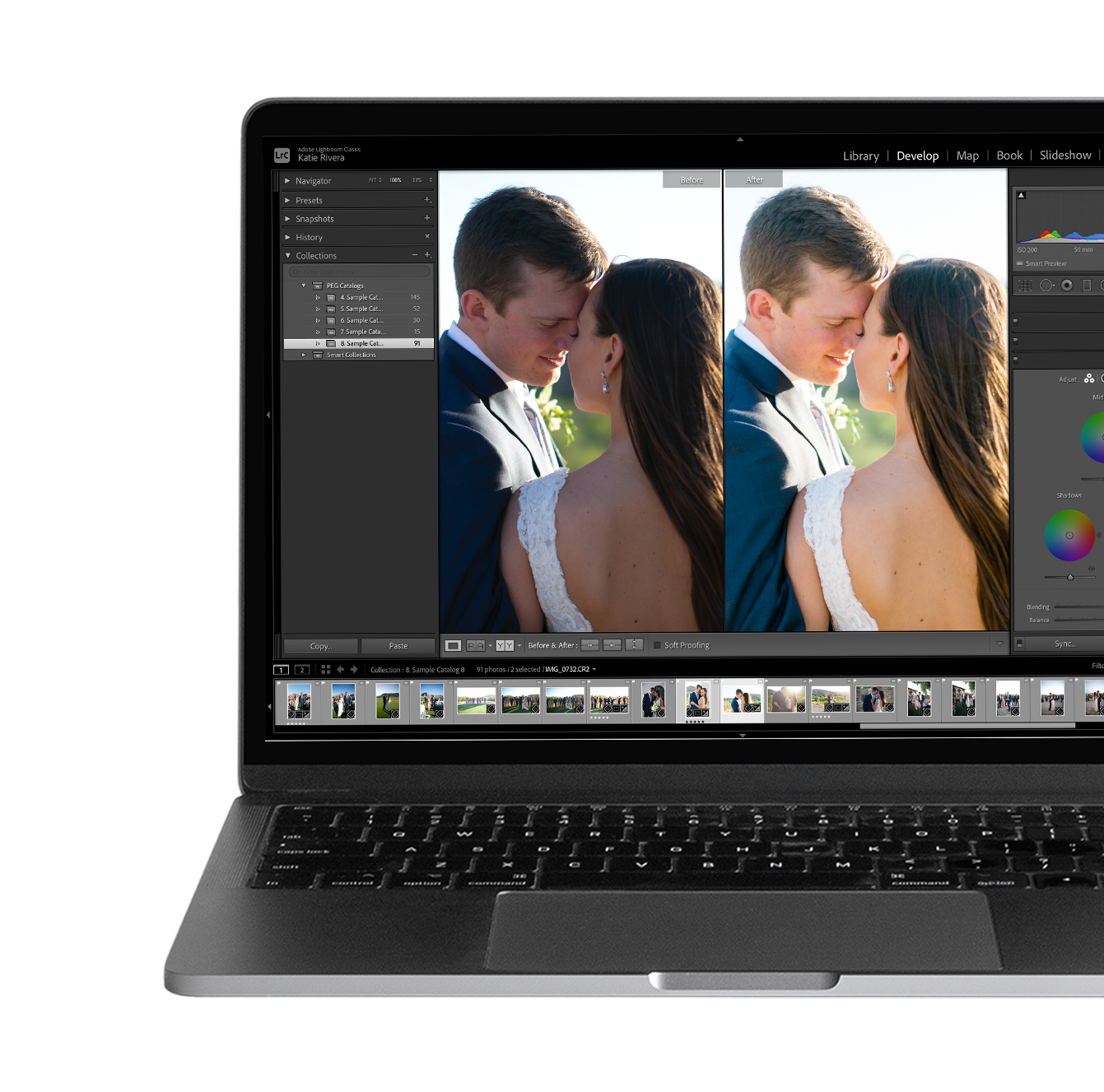 For the type of profitable photo editing that we teach in The Photo Editor's Guide, Adobe Lightroom Classic is the only editing software you'll need in this specific industry.
Exchanging photo preview files using Lightroom Classic is a breeze for both photographer and editor!
Adobe Lightroom Classic is $9.99/mo — and you can get started with a free trial!
3. Dubsado — All-in-one CRM
Dubsado helps your business stay in motion behind the scenes. Build client relationships, schedule appointments, and create workflows to automatically streamline your client on-boarding and jobs from start to finish.
I dedicate five lessons in The Photo Editor's Guide course to setting up a simple and streamlined Dubsado system for client management. This includes copy/paste 10+ email scripts, invoice script, inquiry response template, scheduling template, a contract template, and on-boarding form template.
Click here to use Dubsado for FREE with your first 3 clients AND get 20% off! This trial does not expire over time and is free to use for your first 3 clients — however long that is!
4. Monitor Calibration Tool
If you have a Windows computer and at least 16GB of RAM, you can make the most out of the display that you have by investing in a Pro Display Calibration tool.
5. Curved Lap Desk (for those couch sessions)
I am ALL about comfort when it comes editing! Unpopular opinion: my dedicated office isn't all that motivating to me. In the mornings, I love to pour myself a coffee, snuggle up on the sectional of my couch, turn on a binge-worthy Netflix show, and open up my laptop to tackle that morning's editing job.
I wouldn't be able to do this without this exact $32 Curved Lap Desk! It is large enough to comfortably fit around my waist.
What makes this different than a normal lap desk? It is wide enough and ergonomically designed to can also accommodate an editing tool on the left and a my mouse on the right!
6. Standing Desk Riser
When I'm not editing on the couch, I am using this standup desk convertor! Yes, I have to switch it up sometimes because as comfy as the couch is there are some days when I know I want to stand up and work.
7. Shortcut Tool
This is going to be a controversial hot-take: simpler shortcut editing tools are more efficient and comfortable.
I do not lie when I say comfort is a huge priority of mine. As cool as those fancy video editing tools like the Loupedeck or the popular Wacom Intuos Pro — they're mostly optimized for video editing software or Photoshop.
The types of profitable photo editing services that allow me to make $75k a year in editing services alone utilize the cheapest shortcut tool out of all of them: the
" target="_blank">Contour Shuttle Xpress and/or the Contour Shuttle Pro V2.
In the Guide, I provide downloadable settings and a bonus demonstration lesson on how I use this tool to edit 200-300 images per hour.
8. Undated Business Planner for Entrepreneurs!
Not completing a task or a goal by a deadline is really discouraging and frustrating. Keeping up with pre-planned deadlines I've set for myself in a planner has been one of my biggest struggles as a business owner.
I stopped buying planners for the new year a long time ago — because, life happens and part of the flexibility of working for yourself is working in a way that is best for you. This is why The Photo Editor's Guide is self-paced — the coursework doesn't force to go along with an unrealistic timeline.
If you're a private photo editor, you're doing this for the flexibility so let's launch your business with this in mind!
9. Productivity Planner (for those that need to combine business goals with everything else)
Sometimes you need a no-b.s., undated planner to help you tackle your big and small tasks of the day! This is the perfect productivity planner for those that are juggling all-the-things!
10. The 5-Minute Journal
Wait, wait, wait! Hear me out on this one.
Starting a solo business can be isolating sometimes. If you aren't a part of a community like The Photo Editor's Guide, it's easy to feel lonely or overwhelmed as you're launching your new business.
The Five Minute Gratitude Journal is created with leading psychology research. Feel higher levels of positive emotion, more joy, optimism & happiness; feel less anxiety, loneliness, and isolation.
When you start your day with what you're grateful for and why you're pursuing photo editing as a career you gain so much clarity that will help fuel your entrepreneurial soul!
10 Tools & Resources for Private Photo Editors